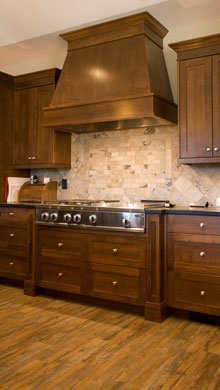 Our Beginnings...
Renaissance Joinery &amp Millwork Inc. was established in 2004, however the desire to design and create started many years before that. The reality is, it seems as far back as we can remember we enjoyed designing and creating, bringing stacks of wood to life.
The creation of fine, custom cabinetry has been one of our life's passions. From elegant dining rooms to exquisite kitchens, from family entertainment areas to relaxing bathrooms, a small piece of our hearts have been left in many homes.
We like to think we are in the service industry - there with you everyday from the moment you begin to enjoy your investment… serving you and your family.
With over 50 years combined experience in the cabinet and millwork industry, one could truly say we love what we do.
Our Creative Process...
At Renaissance we strongly believe that inside the heart of every client is an artist waiting to emerge. Every person has a preference of colour and shape, pattern and texture. Whether your inclination is whimsical or traditional, whether you fancy eclectic or transitional, our desire is to fashion an environment that is conducive to your personal expression, a place to help facilitate your inspiration.
Whether you visit our show room or whether we make an evening visit to your living room, whether you have definite design ideas or whether you need some assistance with decisions, we are here to meet what ever your creative needs may be.
We are not a large box store, with a brightly lit show room, beckoning the client to make a choice, an instant decision, but rather we aspire to provide a low pressure unassuming environment where one is encouraged to relax, stimulate the senses, imagine and then create.
Our Dedication to Our Clients...
At Renaissance our dedication to the use of fine quality materials and construction techniques combined with creative and imaginative design styles ensures you the customer optimum value and fulfillment from your investment. We believe in the importance of building lasting relationships not only with our clients but also with those who provide us with the quality materials necessary to produce lasting products. We desire to know each client as a person, to listen to their hearts and learn from their life experiences.
Lasting Products and Lasting Relationships... that is our goal.
Our Values...
We believe that every single person has been placed on this earth with purpose, and that it is the responsibility of each individual to live their lives within that purpose. A purpose to serve our families and then those around us. A purpose to do our best to make this world a better place and a purpose to leave a positive and lasting impression on the generations we leave this PURPOSE to. Whether your purpose is in lending a hand to your neighbour or by serving the poor and less fortunate in the communities of our collective world, the greatest gift we can share is service. Our desire at Renaissance is to ensure that our business is a conduit to provide that PURPOSE and SERVICE to our world.
For more information about the organizations we support, please visit the following websites. - Safe Care Mission International - Foundation For His Ministry